Newcastle midfielder Jonjo Shelvey has been speaking about his teammate and Toon Army favourite Allan Saint-Maximin.
Speaking to the Beautiful Game podcast, Shelvey was quick to absolutely heap praise on Saint-Maximin:
"He's a lunatic," began Shelvey. "He's class, man, some player. He's some guy as well. He's just one of them who's so laid back. Head to toe in designer gear.
"He gets fined every day because he's got earrings in and stuff like that but if he weren't that good, you'd probably have the hump with him but when he's that good, you don't really want to have a go at him."
It's hardly a surprise for anyone that knows much about him that Allan Saint-Maximin gets fined a lot. He's one of those guys that is so good they can essentially get away with just doing whatever they please – from most people.
When he first signed for us last summer, a lot of people voiced concerns about Saint-Maximin due to the fact OGC Nice manager Patrick Vieira had been critical of his attitude. On the surface, we've seen very little of that. On the pitch, he's been a model professional this term – as well as incredible to watch, as Shelvey will attest.
"He's been outstanding," added Shelvey. "For me, as a midfield player, you try and get you're head up and we're a team that plays on the counter-attack so we just have to try and get the ball to him and let him try and dribble around 20 players.
"He's so quick – you just don't know what he's going do with the ball – and he's so raw with his skill. He's improved a lot defensively because when he first signed, he didn't really want to track back and things like that but the gaffer's got him doing that. That's just going to make him even better.
"I remember the goal he scored against Sheffield United with his head – the leap! That was up there with [Cristiano] Ronaldo's leaping and you don't see him in the gym or anything like that. He's just one of those footballers who's got the electric pace and I can't speak highly enough of him."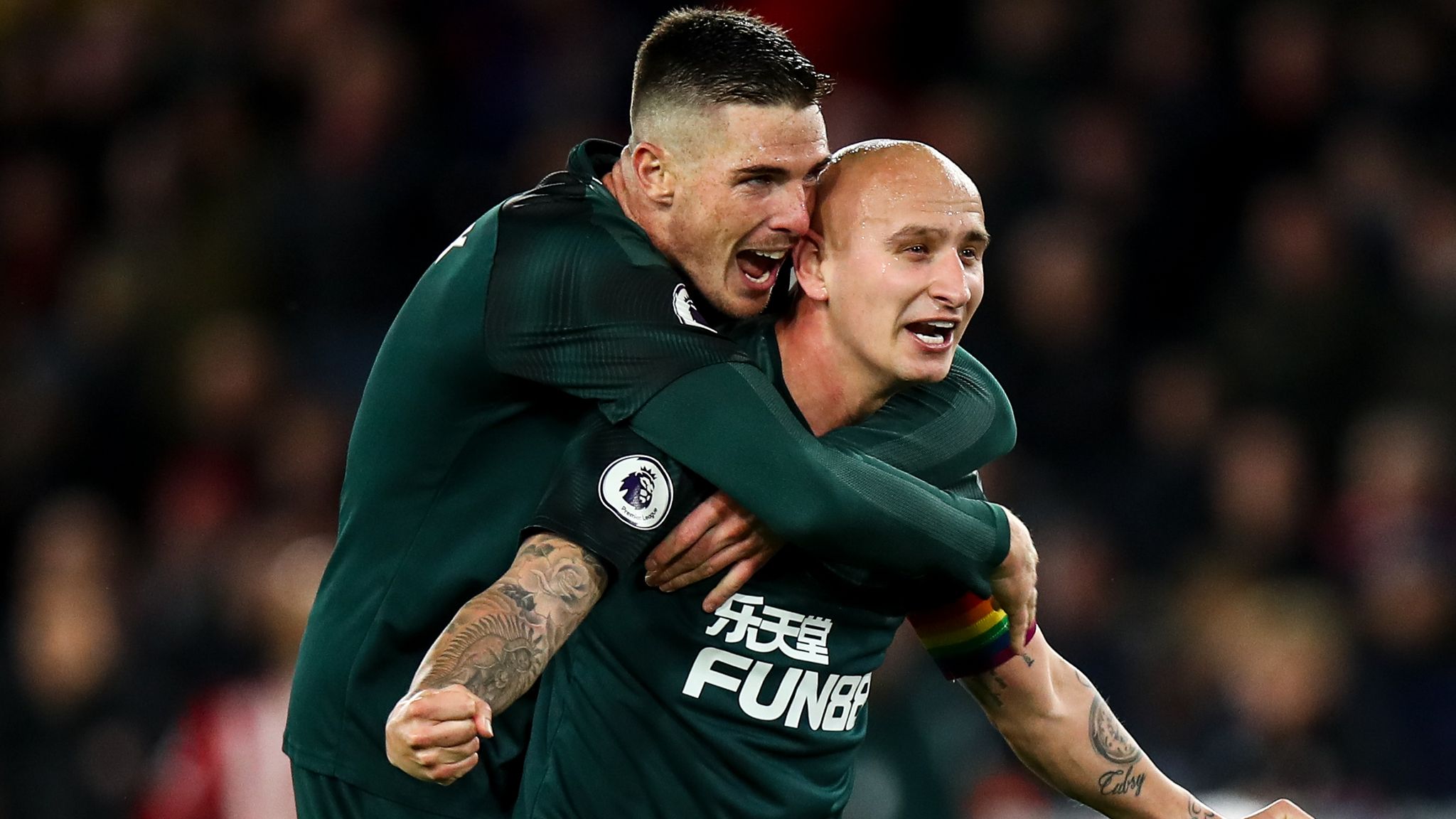 It goes without saying that Allan Saint-Maximin is one of the most gifted footballers ever to grace the turf at St James' Park. He's been an absolute phenom for United all season long and I fully expect that to continue.
To be perfectly honest, I think the biggest issue we're going to have is figuring out how on Earth we keep hold of a player like that. When this takeover goes through, I'm hoping we can transition into a team who like to attack a lot. Imagine what Saint-Maximin could do if he got the ball more, and further up the pitch, than he currently does.
Jesus Christ. I'd actually feel sorry for right backs across the country.
For more like this, visit the dedicated news page which you can find here. Also, follow us on Twitter for more coverage of the club we all adore…