Well that… was fucking dreadful. Newcastle United are a Premier League club, Newport are a League Two club – tonight, that wasn't immediately obvious. We couldn't string passes together, we refused to press and we were shocking in front of goal.
Awful performance
From the outset, we just looked as though we couldn't be arsed. Shelvey was strolling around the field without a care in the world, Andy Carroll was standing 50 yards away from any other black and white shirt offering nothing to the game and the back four might as well have been sat on the bench twiddling their thumbs.
It took them five minutes to score past us, and the manner of the goal pretty much summed up the performance from United. Nathan Twine wandered past Shelvey in the midfield and was afforded the freedom of South Wales to take his time and pick out a shot. To be fair to the lad, it was a cracking effort and smashed off the bar – lading at the feet of Tristan Abrahams at the edge of the area.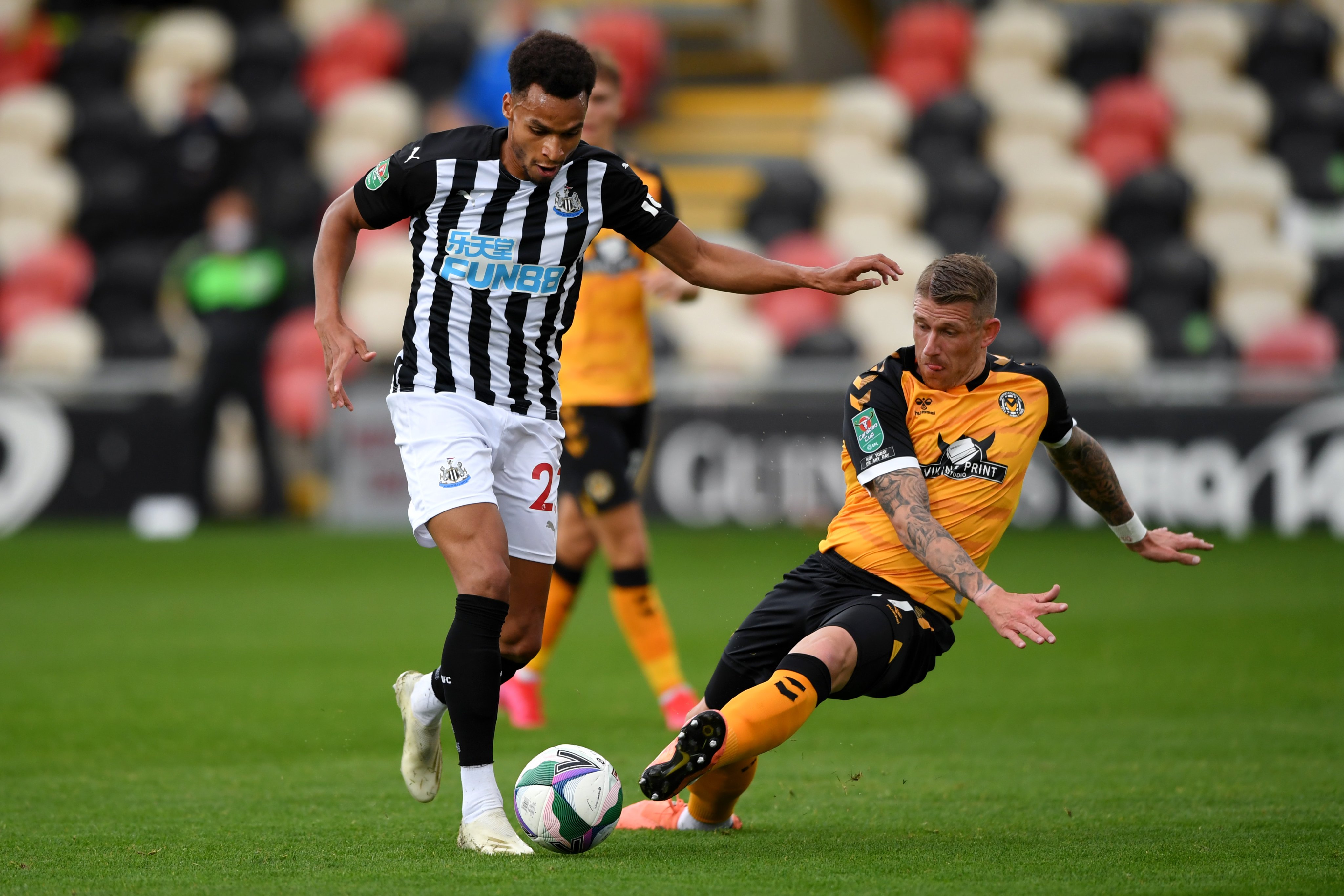 Abrahams scuffed an absolute palm tickler towards goal which Mark Gillespie should have been able to simply pick up. HOWEVER, he got everything wrong and somehow managed to punch it into the roof of his own net. Shocking goalkeeping from the Geordie lad.
After that, you'd think there'd have been some sort of reaction… but you'd be wrong. We continued to do very little with the ball and the odd time we did get forward, it was with Jacob Murphy. The drawback to that is that Murphy is completely inept once he's inside the 18-yard-box. The first half dragged by and after what felt like 500 years, mercifully the whistle went.
After the break, for a brief fleeting moment it looked as though Bruce had given Newcastle a kick up the arse… but no. What actually happened was Newport began to take control and started looking for a second goal, which we were pretty defenceless to stop. Fortunately, they didn't manage to find one and Bruce finally looked towards the subs bench.
The turning point for United was when Joelinton and Callum Wilson came off the bench just after the hour mark. Immediately we looked as though we might be able to do something as Wilson went close straight after making his entrance. Joelinton offered some more direct running and looked a threat, even if he didn't actually manage to impact the scoreline.
Despite a host of chances going begging and Newcastle being exposed for a sheer lack of ability to cross the ball, we did eventually nab an equaliser. It came in the 87th minute courtesy of Lord Voldemort. He received the ball in the area with his back to goal, manoeuvred a bit of space and whipped a vicious effort into the top right corner before proceeding to celebrate as though he'd spent the last year receiving unfair criticism…
Six minutes added time gave us enough of an opportunity to go and chase a winner, which we very nearly found in the last minute of those added on. Two goal-line clearances from Newport stopped a couple of goalbound efforts, but it wasn't to be and off to penalties we went.
IF like me, you are young and have very little memory of Newcastle in penalty shoot-outs, you won't have been confident for this. That confidence will have been drained even further when Sky Sports' Laura Woods told viewers that United have lost 10 of our last 11 penalty contests… Thanks, Laura.
It looked as though it would be 11 of 12 when Joelinton stepped up and telegraphed a very poor effort straight at the opposition keeper for Newcastle's second attempt, but Gillespie managed to make up for his earlier efforts by stopping Ryan Taylor's (not that one) effort. Sudden death it was – with Jacob Murphy and Sean Longstaff both burying confident efforts, before Brandon Cooper blazed his effort over the bar to send United through to the quarter-finals.
Simply not good enough
Everything, from the passing of the ball to the application with which we pressed the opposition, was simply below par in this game. Whether it's down to a lack of motivation, poor tactics or something else entirely – the blame for that lays firmly at the door of Mr S Bruce.
I've been something of a defender of the gaffer for the last year, but with each passing poor performance I lose a little more of the respect I gained for him last season. He defends himself and he defends his players, but there has to come a point wherein he realises thats the performances are simply not good enough.
This is arguably the most talented squad Newcastle have had in eight years, yet we're playing like we've got a squad full of players who've only just met. They're poorly drilled, they're not fit enough, they're not committed enough and as a result – they're not good enough.
This is the second time in a few days United have managed to get away with a shockingly poor performance by scraping a result. Luck doesn't last forever, Stevie boy.
Newcastle Player Ratings
Mark Gillespie – 4
Was fully to blame for their goal, but made up for it at least a little in the shoot-out. Either way, didn't fill me with confidence and needs to be better.
Javi Manquillo – 5
Got forward a lot and found himself in good positions, just a shame he's got a foot like a Dorito.
Emil Krafth – 5
Made a poor attempt to block the shot that gave them the lead. Didn't do much else really.
Federico Fernandez – 5
Captain, leader, average.
Jamal Lewis – 6
Looked good going forward and delivered one or two decent crosses, but needs to work on his defensive play. The more I see of him, the more I think he's still a long way from the finished article.
Sean Longstaff – 6
Did Ok. A bang average performance made to look ten times better by the horror show from his midfield partner.
Jonjo Shelvey – 4
Had he not scored, this would have been a -10. Strolled around the field, played a ridiculous amount of horrific passes, rash in the challenge and was a complete waste of a shirt… for 86 minutes anyway. Good finish.
Jacob Murphy – 6
Was a threat on the ball and kept getting himself into the right positions, but this kid couldn't finish his dinner… even if his Ma cut it up into little bits.
Miguel Almiron – 5
Went on a couple of decent runs but might as well not have been there for most of the hour or so he was on the pitch. Seems to have forgotten how to pass in the last two games as well.
Ryan Fraser – 5
Tried his best bless him, but he's clearly not fit. Delivery was poor, didn't run enough and just trying to get some minutes under his belt I think. Played the full 90, so that should mean we're a wee bit closer to seeing the best of him.
Andy Carroll – 2
Why was he even on the pitch? Offered nothing but flailing elbows and a risk of concussing opposition defenders.
Subs
Callum Wilson – 7
Changed the game when he came on. Played some nice link up play with Joelinton and Murphy but should have scored a winner right at the end.
Joelinton – 5
Did pretty well. Offered a threat and moved well with the ball. Missed in the shoot-out – minus one point for that.
Fabian Schär – 5
Didn't do a lot when he came on but offered an additional threat from set pieces. Nearly scored seconds after his introduction to be fair. Scored in the shoot-out – kudos for that.
Bring on Burnley at the weekend. If we're going to win, we need to be a hell of a lot better than we were tonight. While you're here, follow me on Twitter for more genius commentary.