Since arriving at St James' Park in January 2016, maverick midfielder Jonjo Shelvey has endured something of a rollercoaster. His career at Newcastle got off to a brilliant start under Steve McClaren and he looked like he could have been the thing the team had been missing – pulling out beautiful passes and glorious assists.
Pretty quickly though, the problems began to come to the fore. A poor attitude, poor discipline and a level of inconsistency I simply couldn't believe. One game he was prime Xavi, the next he could have been beaten to his place in the starting XI by Romain Amalfitano.
In recent months, he's seemed a lot more at home. The appointment of Steve Bruce as manager seems to have worked for him on a personal level and this term he's put in what has been, in my opinion, his best season in an NUFC shirt to date.
The Benitez/Shelvey issues…
For whatever reason, Shelvey and Rafael Benitez didn't seem to see eye-to-eye. There was rumours of ructions at Benton between the pair on more than one occasion. After Benitez moved on, Shelvey gave an interview during a pre-season trip to China wherein he declared the change in manager was just what he needed.
Shelvey claimed Bruce was "more straight at you" and told the media that he personally prefers that. He went on to say that with Rafa, you "never knew where you were at".
Speaking of the change in management, Shelvey told media: "For me personally I think I needed that change."
"I obviously understand the fans – they are disappointed and that. We had three great seasons under Rafa. I think now we have just got to move on, it wasn't to be.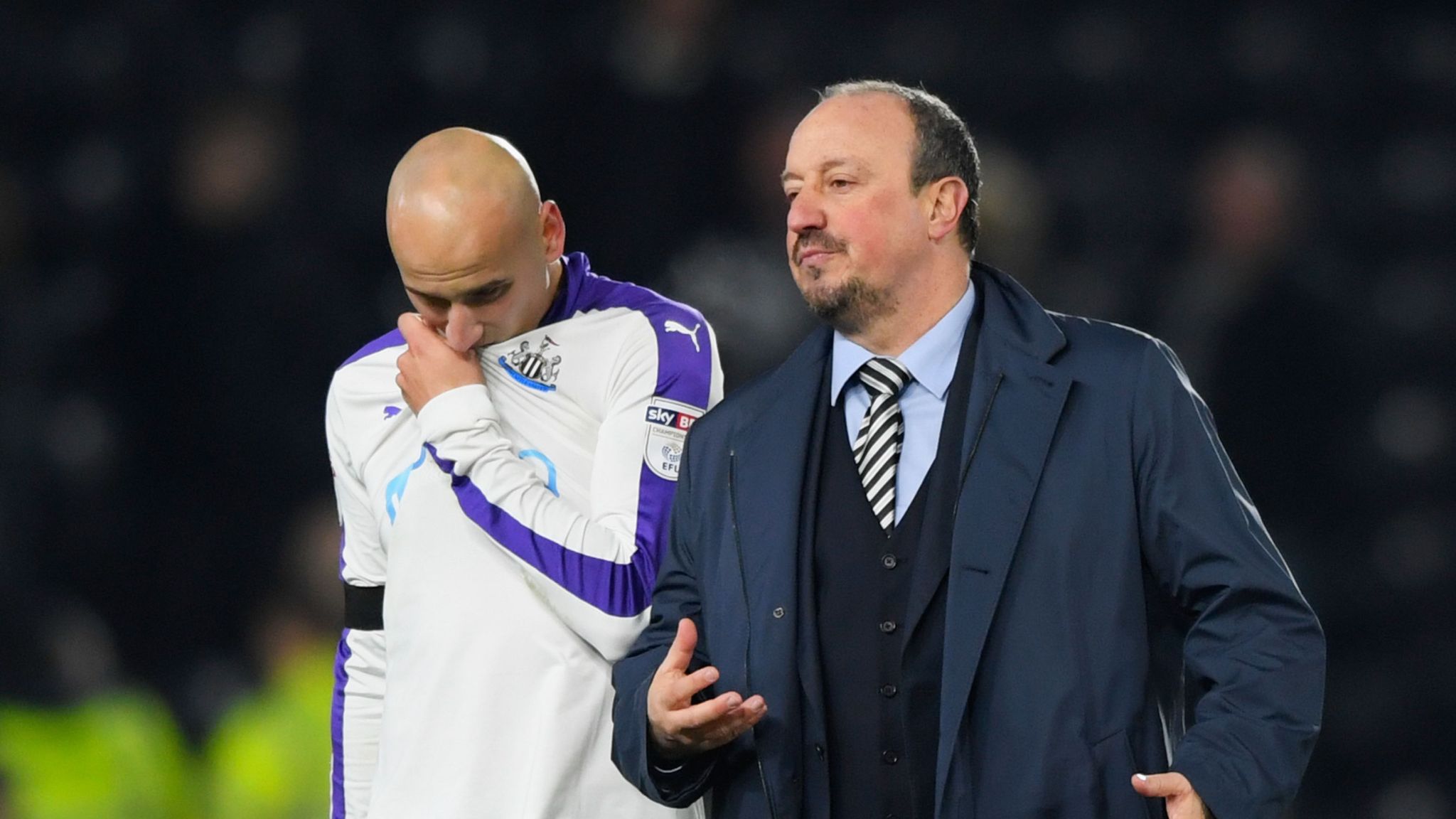 "With Rafa you never knew where you were, what he was thinking. Rafa's record speaks for itself – he probably didn't need to tell you what he was thinking.
"That's not knocking Rafa, Rafa is a terrific manager for me personally. I think the club has moved on now. I think everyone, the press, everyone needs to move on now.
"He's made a massive difference. He's constantly talking to you, telling you what he is thinking. As a player, that's what you want."
Those comments, which Shelvey made last summer, for me sum up the reasons why his form was so up and down under Benitez. The "you never knew where you were, what he was thinking" line is telling, in my opinion.
Shelvey is the type of player who likes to be reassured of his talents on a regular basis. The type of player who likes to be in constant communication with the coaching staff to make sure he's doing alright and to help him figure out what he's doing wrong.
As per every account I've ever heard about Rafa, he's not a hands on manager. He's not the type to throw an arm around his players and boost their morale – he's more like the disciplinarian who implements his strategy and delegates the player interaction to his coaching staff.
By all accounts, his successor is Steve Bruce couldn't be more different. For the type of player Shelvey is, this obviously suits his more – as he said himself.
Shelvey and Bruce – a match made in heaven
Shelvey and Bruce seem to have been getting on like a house on fire this season and, as a result, Shelvey's performances on the field have seen a significant uptick.
According to whoscored.com and their player rating system, only Allan Saint-Maximin has played at a consistently higher level than Shelvey this season. The Frenchman averages a rating of 7.18 while Shelvey is currently averaging 7.08.
There's a significant drop down to Ciaran Clark in third position – the Irish defender averages a rating of 6.89. To add to that, Shelvey has five goals in the Premier League this season, making him the leading scorer in the league by three clear strikes.
In the two full Premier League seasons he played under Rafael Benitez, Shelvey managed a grand total of two Premier League goals – one in each season. In fact, his lack of end product was one of the things that frustrated fans about Shelvey. He could play, but needed to add goals and assists to his game.
This year, he's managed to add goals to his game and pulled the club through a few games. The 28-year-old is just one goal away from equalling his best ever goal-scoring season in the Premier League. With nine games to go, if the season does eventually get going again, I'd back him to beat that.
This uptick in form should come as no surprise, he was one of a number of players who very much welcomed the appointment of Bruce last summer. This is what he said about his new boss when Bruce was given the role:
"The fans need to give him a chance because I think, if they do that, if we play like we did against West Ham, we will do well week in, week out and they won't have any reason for complaint."
"As soon as he came in, all he expects is that you work hard. If you work hard you will be fine, that's what we need to do.
"Every player who has worked with him [Bruce] has spoken highly of him. I can only go on what people have said. I saw him in the summer in Portugal in the summer and he loves Portugal.
"We said hello, obviously I didn't know he was going to end up being my manager, so it's a good thing I did stop and say hello. He deserves a bit more credit than he gets. Even within two days, look at the difference today to the other day.
"You won't find many people who don't speak highly of Steve."
What do the new owners do with Shelvey?
At 28, Shelvey is in the midst of the peak of his career as a professional footballer. We're seeing the best version of Shelvey we've ever seen currently and, to me, it'd be silly to remove a player with that level of quality from the team.
It seems Bruce, whatever the situation, will be the new manager until the end of the season. Beyond that, God only knows what will happen. Mauricio Pochettino has been linked with the job and, astonishingly, Benitez has been touted for a return.
If the latter of those two things were to happen, I highly doubt there'd be any sort of appetite in the Shelvey camp to stick around on Tyneside. However, with someone like Poch – with guarantees he'd be involved week-to-week – I could see Shelvey continuing to be a vital part of the midfield for a while yet.
It seems best case scenario for the former Swansea star would be for Steve Bruce to remain in his role as NUFC boss. At this moment in time, that doesn't seem to be particularly likely. I don't personally believe the new owners would have looked to buy the club without having their own man in place to take the reigns.
All-in-all, I'd like Newcastle to hang on to Shelvey. As Matt Ritchie said last week, when he's performing well, Shelvey has enough quality within him to pull on the claret and blue of Barcelona or the lily-white of Real Madrid. It seems silly to me to get rid of someone with that much quality without some serious financial reward.
Given his age, if the club are to receive a bid north of £10m I do believe they would accept it. In a pre-COVID world, he'd be worth closer to £20m right now in my eyes – but with valuations dropping, I see the club moving him on if they get a seven figure offer.
Despite that, I don't think they should be going out of their way to shop him. He's not indispensable, but he's certainly not dead weight. What do you think of Shelvey? Log in and leave a comment below.
For more like this, visit the opinions page of the site here. Meanwhile, follow us on Twitter for coverage of our favourite soap opera…