With each passing game he plays, Isaac Hayden begins to look more and more like a top class central midfielder. He's good in the air, he's strong in the tackle and he's not too bad on the ball either. This season, he has cemented himself as a vital cog in the machine that is Newcastle United.
Two years of ups and downs
When he signed for Newcastle in 2016 ahead of our season in the Championship, Hayden wasn't exactly a signing that had fans jumping off their seats in joy.
That said, he turned out to be a valuable performer that season and finished the season with the second best average match rating in the entire squad at 7.28. He also scored a couple of goals hthat proved to be quite important.
The following year, having helped Rafael Benitez's Newcastle get promoted to the Premier League, Hayden made plenty of appearances but struggled to have much of an impact on the team and had just the 19th best average match rating at 6.53.
He wasn't scoring goals, he wasn't contributing much at the back and was often little more than a hindrance to the Newcastle midfield, leaving many to question his importance. After the season ended, he made clear his desire to leave the club to be closer to his family in London.
Hayden comes into his own
His desire to leave the club for family reasons was one the fans understood – if he was to leave, then so be it. A man has to do what a man has to do to look after his family. However, Hayden didn't end up leaving, most likely due to the fact there just wasn't an abundance of takers…
Instead, what he did was put in one of the most professionally outstanding seasons I've seen in my 20 years as a Newcastle United fan. Yes, he wanted to leave but, where others would have kicked up a fuss when that didn't materialise, Isaac Hayden put his head down and grafted.
After a few months of the season, injuries in the midfield department meant that he had an opportunity to prove his worth in the first team. Alongside young academy prospect Sean Longstaff, who was drafted in to cover the midfield absentees, Hayden created one of the stories of the 2018/19 season. The pair cemented themselves in the Newcastle midfield, running the show in some huge games that helped Newcastle on our way to survival. The most notable was the 2-1 win over Manchester City in January '19, after which the pair – particularly Hayden – drew praise from Pep Guardiola for their workman-like performance in the middle of the park.
Ever since then, Hayden has become a very solid and pretty much full-time component in the Newcastle United XI.
What is it about him that works so well?
He's tall, rangy, strong in the tackle and good on the ball – all the things you need to be top class defensive midfielder in the Premier League. He plays in a team that often soak up a lot of pressure in games, sitting back and letting teams play football – even at home.
He patrols the midfield area for a full 90 minutes, putting in tackles and winning bossing the game. This season, no Newcastle player has made more tackles per game than Hayden. He puts in two tackles per game, which is impressive given that the low block Steve Bruce often deploys means teams tend to play mostly down the flanks against Newcastle.
As well as that, he puts in 1.4 interceptions per game, which is the fourth most in the team. In the Premier League this season, only five midfielders who play regularly (20+ apps) have been dribbled past less than Hayden.
In my personal opinion, the statistic that shows just how pivotal Hayden is to Newcastle United is the points per game with him in the team versus the points per game without him. Across the five games in which Isaac has been missing this season, NUFC have picked up 0.8 ppg. In the 25 games he has played in, the boys have picked up 1.36 ppg – that's a stark contrast.
As well as that, he came up with one of the most clutch and most memorable moments of the season. When Chelsea came to town in January, Hayden popped up with a goal in injury time to steal all three points for Newcastle – ending a run of horrific form in the Premier League that saw the boys pick up just one point in four games.
Perhaps the thing that helps Hayden stand out from the crowd more than any other player is his sheer versatility. This season, he has played or filled in at four different positions – CDM, CM, CB and RB. Last season, he even played in right midfield for a game…
Does he have any drawbacks?
He wouldn't be human if he didn't. The main one that comes to mind with Hayden is that he can be quite rash in the challenge and that can cost the team. He's picked up four yellows and crucially, one red card for Newcastle this term.
That red card, which came in the first half of the visit to Leicester way back in September, cost the team dearly. We went on to lose the match 5-0 and Hayden was missing for three huge games in the weeks that followed as United faced Man U, Chelsea and Wolves.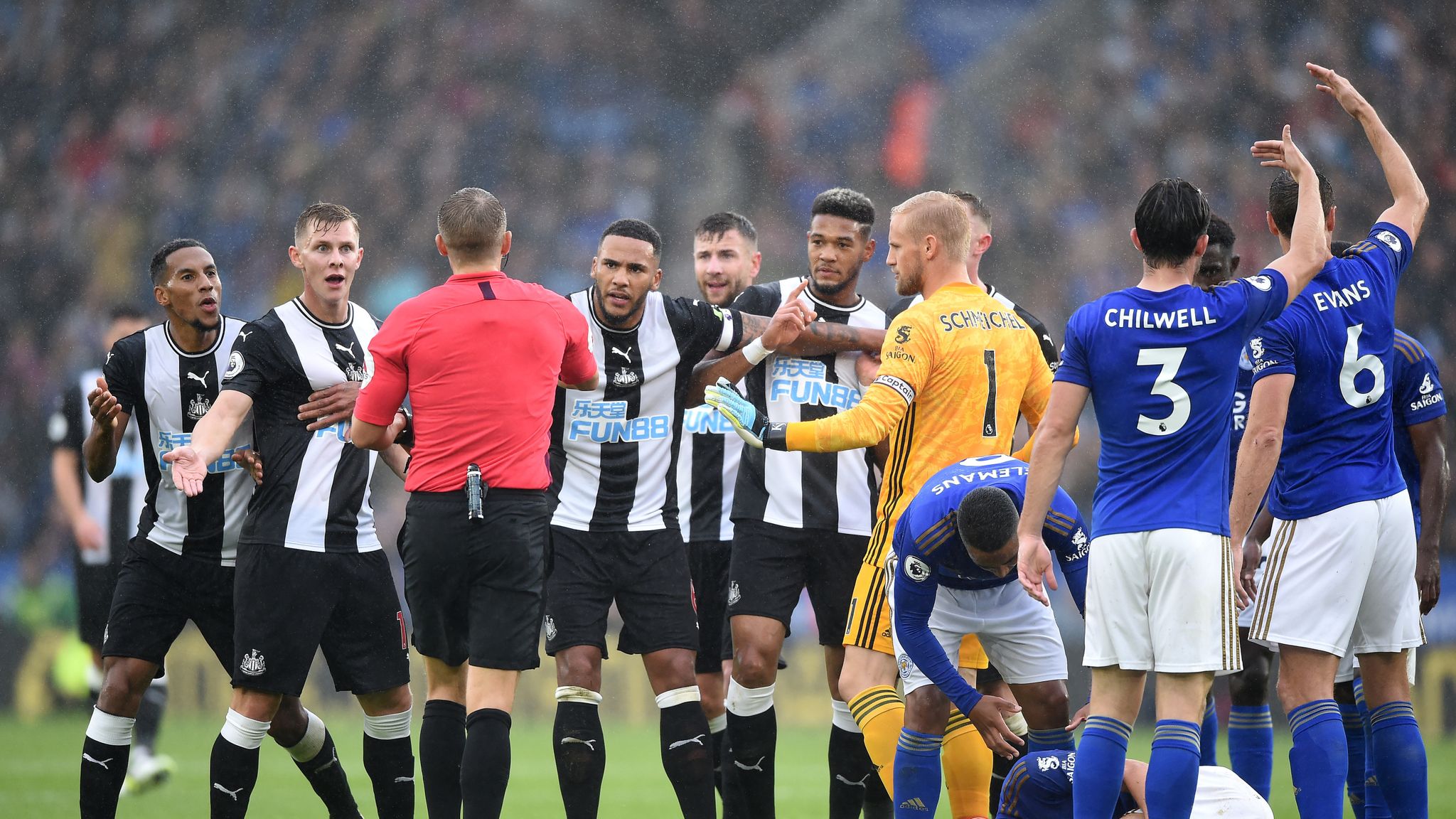 He received a red card last season in the second game of the campaign away to Cardiff City, which meant he would miss matches against Chelsea and Manchester City in the weeks directly following.
All-in-all…
All-in-all, Isaac Hayden's progression over the last four years has been immense and he has become not only one of my favourite players at the club, but one of the best too. He's now 25-years-old and approaching the peak years of his career – if the last few years are anything to go by, he's going to be an incredibly important player for his club.
His contract with Newcastle runs out at the end of next season, and the club have a responsibility to at least try and extend that deal. If he decides not to stay and opts to move back to London as he stated he wanted to a couple of years back, we will wish him farewell and good fortunes wherever he should end up.
He is a man that arrived from Arsenal's trash can for pennies back in 2016 but these days, he would walk right into their starting XI with absolutely no worries. He has developed into a top class footballer and, wherever he plays the next few years of his career, he will be hugely important to his team. I just hope to God he sticks around…
For more like this, visit our news page here. Meanwhile, follow us on Twitter for more coverage of Newcastle United.